Let us explain it in few words.
CVW, it's an AI (Artificial Intelligence) that offers 4 main functions :
 SORT : with an easy system, you can sort your CV by competence, by experience and so many other keywords. Looking for a Senior Java candidate in your CV's database ? CVW finds it in a few seconds.
TEMPLATE : you can upload the candidate's CV and in a click, it's on the template of your choice. You will no longer waste time copying and pasting CVs.
ANONYMISE : it's also possible to anonymise some information of your CVS (name, phone, clients,…). A simple way to keep your candidates in hand.
MATCH : this is maybe the most powerful function of CVW. You received a mission offer ? You can upload it and CVW with find in your CV the perfect match. Without CVW, imagine how long does it take for you ? With CVW, it takes max 5 seconds.
You want more info ? Go to our cvweaver.com.
Don't hesitate to watch our videos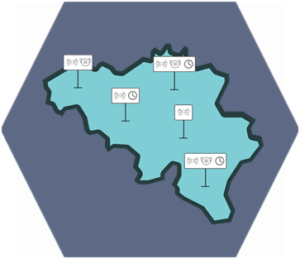 Covid 19 measures app
This app will help us better understand the active covid's rules
Easy to use, easy to get by
Since the beginning of the sanitary crisis affecting our country (and the whole world), we have oscillated between restrictions and lockdown, whether partial or total. Nowaday, sanitary' measures punctuate our social and professional life.
Between the here and there measures, the yesterday and tomorrow's rules, it's not easy to get by.
Livio Van Rymenant, one of our employees, has created an app to help citizens.
This application is intended for public authorities and allows citizens to have a clear vision of the measures applicable to the place where they are (curfew, mandatory mask, closure of restaurants, etc.)
Available on Android, IOS but also on a simple website, this application is easy to use and can be combined with any other existing app (Coronalert or other).
It's also an attractive way to communicate clearly to young people.
Concretely, this application includes 2 parts:
Depending on their location, they can have a clear overview of the measures that concern them. If they move and pass in another sector, they receive a notification indicating that the measures have changed. If they plan to move, they can also ask the application what measures are applicable to the place where they are going.
Part for public authorities
The other part is intended for the public authorities: it is invisible to the citizen and allows the public authority to input the measures applicable in their territory. It is done very quickly and easily.